Mekotronics R18 embedded PC with Rockchip 3568 chipset
Mekotronics R18 embedded PC is equiped with Rockchip RK3568 quad core 64 bit industrial processor, and its max DDR capacity support is up to 8GB; Also R18 support WiFi 6, 5G/4G and other high speed wireless network communication; With its metal housing, R18 has industrial grade stability and can operate stably for a long time under the working temperature from -40°C to 80°C;
Mekotronics also can provide reference design data of the base plate, which users can customize with.

Rockchip RK3568 industrial CPU
Rockchip 3568 is a quad core 64 bit cortex-A55 processor, and it is 22nm made advanced technology, and the main frequency is up to 2.0GHz. Rockchip 3568 is very powerful, efficient and stable in data processing performance of back-end equipment.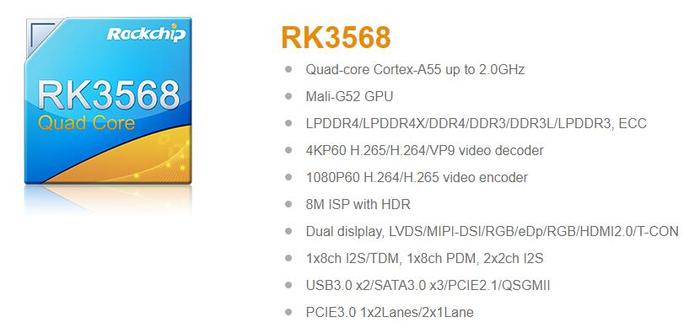 Mekotronics R18, its DDR max capacity is up to 8GB, and supports full link ECC
It can be equipped with 8GB memory capacity at most, 32bit bit width and 1600MHZ frequency; Support full link ECC to make data more secure and reliable, and meet the requirements of product application scenarios with large memory.

Rockchip RK3568 integrated GPU, VPU, and NPU
Rockchip RK3568 integrates dual core architecture GPU, VPU and NPU. RK3568 GPU supports OpenGL ES 3 2/2.0/1.1, Vulkan1.1; and its VPU can support 4K 60fps H.265/H.264/VP9 video decoding and 1920x1080@60fps H.265/H.264 video encoding; Its NPU supports mainstream architecture models such as Tensorflow and Caffe Mode.

Multiple display interfaces
Mekotronics R18 has HDMI 2.0, LVDS, EDP, and MIPI video interface, so R18 can support three screens displaying different contents at the same time; Built in 8m ISP image signal processor, which can support camera and HDR functions; R18 can be used as digital bulletin terminal, digital signage media player and other applications.

Stable running at wide temperature range
With strictly select industrial grade processors and components, Mekotronics R18 can run under harsh working environment, and its working temperature range is from - 40°C to 80°C. And R18 also can work continuously and stably for 24/7 for reaching the industrial standard.
Various interfaces
Mekotronics R18 has HDMI, RJ45, Micro SD, USB 3.0, OTG/USB3.0, GPIO, RS232, LVDS, MIPI, EDP, earphone/microphone interfaces.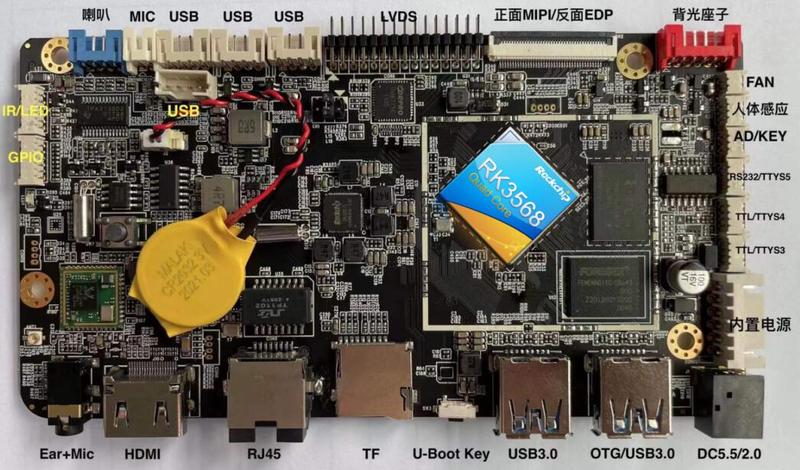 Multiple operation systems, Android and Linux Ubuntu OS
Mekotronics R18 has excellent realtime performance and it can provide a safe and stable system environment for product research and production.
To be used in different industries and applications
Mekotronics R18 with Rockchip 3568 chipset, it can be widely used in IOT gateway, industrial PC, edge computing, face recognition, digital signage, intelligent device, cloud terminal, vehicle central control and other applications.
Product parameter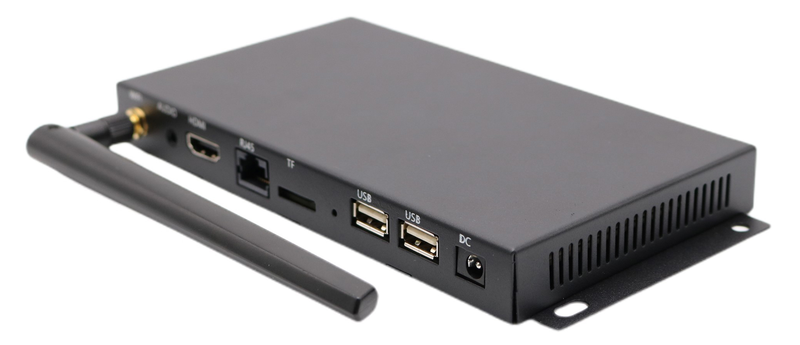 Product parameter

CPU

Quad-Core ARM Cortex-A55,up to 2.0GHz

GPU

* ARM G52 2EE

* Support OpenGL ES 1.1/2.0/3.2,OpenCL 2.0,Vulkan 1.1

* High performance dedicated 2D processor

NPU

Support 0.8T

Multi-media

* Support 4K 60fps H.265/H.264/VP9 decoder

* Support 1080P 60fps H.265/H.264 encoder

* Support 8M ISP with HDR

Display

* Support multi-display

* Support EDP/HDMI2.0/MIPI/LVDS/24bit RGB/T-CON

Interfaces

HDMI, RJ45, Micro SD, USB 3.0, OTG/USB3.0, GPIO, RS232, LVDS, MIPI, EDP, earphone/microphone interfaces

Operating system

Android and Linux Ubuntu